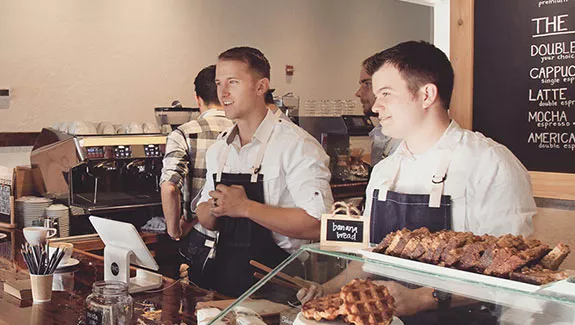 NEW! – You now have the option to attend this class in-person at Texas Coffee School, OR via Zoom live stream! Just register for the class date you'd like to attend below and respond to the confirmation email with your attendance preference (in-person, or via Zoom) so we can make proper arrangements. Class begins at 9:00am Central Time and goes to 3:00pm. (Please Note: Each person watching/attending via Zoom must register and pay for the course. We do not allow multiple attendees under one registration.)
——————-
This coffee shop management training course is a highly detailed single day workshop designed to be the turn-key solution for coffee shop, bakery, and cafe owners that need to get themselves or their coffee shop managers trained and up to speed on critical business operations and management skills to effectively run a coffee shop.
With an emphasis on making course curriculum easy to understand and absorb, our team of coffee business experts created a management training program that focuses on the key factors that can make the biggest impact on a coffee shop's day-to-day operations. This class is perfect for existing coffee shops and/or shops that recently hired or promoted a new manager.  Students will come away from this coffee shop management training course equipped with the practical knowledge of what it takes to be an effective team leader and manager of operations as it relates to the company's customer needs, employee needs, and store needs.  Each student will be provided a detailed binder of class notes and management resource materials to take home.
If your employee also needs coffee & barista training, register them in our upcoming
2-Day Barista Training Class too. That's all they'll need!
What this class is not: This class is not an alternative to our 3-Day Coffee Business Master Class. This class is designed for coffee shops that are already open and need to refine their management process or that need management staff training. This management course includes no barista training, business planning, equipment recommendations, etc. If you are opening a coffee shop business, our 3-Day Coffee Business Master Class includes all info, tools, and training you need, including the information and resources covered in this course.
SCROLL DOWN FOR MORE SPECIFIC CLASS DETAILS
Total Price – $699 per person (6 hour class)
Lunches provided for students attending in-person.