Barista training classes provide you the skills necessary to feel confident working in a quality-oriented coffee environment, or as a skilled home barista. Of course, attending barista training requires an investment of both time and money. Are barista training classes really worth it? 
We're going to break down who barista training can benefit, what they teach, how they increase your coffee shop's chance of success, and how to know if you're investing in quality barista training.  
Who can benefit from barista training? 
Attending barista training classes can help you rapidly advance your skill set. It's a way to plug into the tight-knit, vibrant coffee community. Interacting in a coffee class filled with other passionate, smart, talented people can be inspiring! 
Whether you're launching a coffee shop or enjoy experimenting with coffee at home, the specialty coffee industry is full of knowledgeable, supportive professionals who can help you hone your craft. In our 2-Day Barista Training Course, we cater our curriculum to three sets of people: 
Coffee shop owners looking to train staff

Baristas who want to advance their skill set

Home enthusiasts
Regardless of your experience level, investing your time and money in a quality barista training course demonstrates that you take your craft seriously. For home enthusiasts, the hands-on training and connection to the professional coffee community can fuel your passion. For individual baristas, completing a course gives you tangible evidence of your career commitment and skill level. It can help you get hired for your first job or advance your career. For coffee shop owners, offering your staff ongoing training and quality professional development is one of the most powerful ways to ensure long lasting success.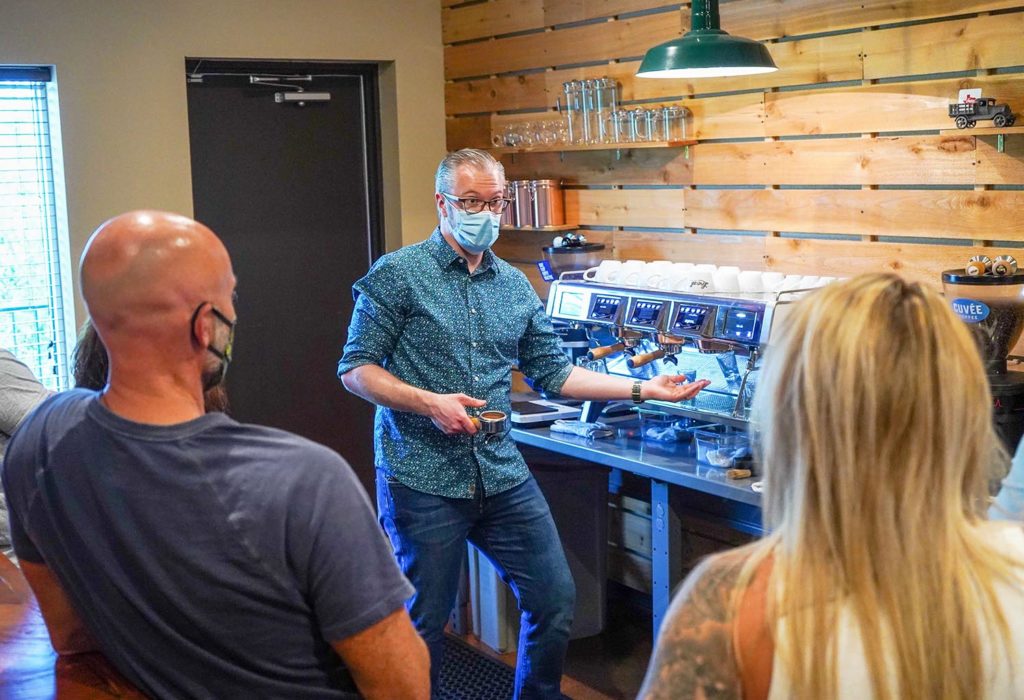 What does a barista training class teach? 
Barista training courses should cover the fundamentals of quality coffee brewing and espresso skills. In day one of our professional barista training class, we dive deep into hands-on espresso and milk skills. First our students learn the history and theory along with proper equipment operation, then we apply this knowledge to the hands-on process for making espresso. Next, students learn proper milk steaming, texturing, and pouring techniques, along with how to make all the classic espresso and milk based drinks that have stood the test of time. On the second day we teach an overview on origins of coffee and coffee agriculture in conjunction coffee tasting and evaluation. From there we dive deep into the essential elements of quality coffee brewing. Through guided hands-on experiments and tasting exercises our students learn how to identify and troubleshoot off-tasting results, then we apply these skills to popular coffee brewing equipment.  
No matter what class you take, you should leave the class with an elevated skill set that helps you to make great-tasting coffee drinks consistently and efficiently. We don't just show our students how to make drinks. We teach them a thorough understanding of the science of coffee. They understand how to isolate and control the variables that affect taste. We also teach coffee shop owners and baristas how to make drinks efficiently, down to which drink to make first, second, and third on each order. 
Lastly, our barista training content is constantly evolving to meet industry trends. A great barista training class will cover techniques that keep your barista skills relevant and up-to-date with coffee innovations, trends, and technology.
Benefits of investing in quality staff training for coffee shops 
While it's true that there are free online tutorials for baristas, it's also important to consider the value of comprehensive, individualized, hands-on experience. It may be an investment of your time and money to attend a quality training. But if you're opening a coffee shop or managing one, you'll end up saving time (and making money) if your baristas have had quality training. Here are some of the benefits: 
Consistency: 
Consistency will make or break your coffee shop. Creating a culture of consistency not only in the way your drinks taste, but also in the customer experience, is what will create a loyal customer base. On the other hand, inconsistency can kill your coffee shop from within. 
Offering quality, professional barista training to your staff assures each barista can make identical drinks, offer over-the-top customer experiences, and work as a team.
Efficiency: 
Running a coffee business is complicated, but success comes down to one, simple truth. The more drinks you serve, the more money you make. A great barista training program helps your staff optimize their time and resources. That helps your entire business run more efficiently. 
Attracting (and keeping) the best talent:
It's true in every industry. If you want to employ the best team, you have to give your employees a reason to want to work for you. Barista training is a great way to fuel that passion and invest in your staff's professional development. In addition to barista training classes, consider supporting your baristas in competitions and specialty coffee industry events. They'll feel supported, and you'll reap the benefits of their sharpened knowledge. 
Average versus quality barista training classes
Thanks to the internet and explosive interest in specialty coffee, there are many ways to advance your barista skills. But how do you know if a class is worth the time and money? You have to decide what's most valuable to you when it comes to your education. Here are a few factors to consider when weighing your options: 
Curriculum:
How in-depth is the barista training course? Does program consistently update the curriculum? Does it specialize in working in a coffee shop environment? The more detailed and specific, the more likely you are to pay for the class. If you're looking for a top-of-the-line barista training course, make sure the organization has professional expertise in the science and business of coffee, the global specialty coffee industry, and the nuances of a coffee shop environment.
Class size:
If you're in a room with dozens (or hundreds) of people, you may not get to receive individualized attention. On the other hand, smaller classes allow you to ask questions, work directly with the coffee educators, and spend more hands-on time with the equipment. 
Quality of the educators:
Who is teaching the class? Do they know how to break down complicated steps in a process? How well do they know the curriculum? There's a difference between a salesperson or barista who can show you how to use a piece of equipment, and a teacher who is invested in your success. 
Testimonials:
What do other students have to say about the class? Read reviews and testimonials to see if the class will be worth your investment. Before registering, check the organization's Google or Facebook page to see what former students are saying. 
Are you ready to elevate your barista skills? 
Register your staff, yourself, or the home enthusiast in your life for our 2-Day Barista Training Course. With small classes and rave student reviews, you'll receive two full days of hands-on training from professional coffee educators. 
Opening a coffee shop? We recommend our 3-Day Coffee Business Master Class. In addition to barista training, it teaches you how to open a coffee shop step-by-step.
See all upcoming coffee courses here.